Our staff spotlight for January is Becky Cook!
Becky has been a loan officer with Element for over five years now. She handles mortgages, helps people with their financial needs, and provides counseling. An important recent moment for Becky was helping a member so that she could afford to see a dentist and attend to a medical issue that had been making her very sick.
I asked Becky what is important to her about working at Element and what the "credit union difference" means to her.
"It's all about our members…I always worked in a commercial banking environment. They did not care about their account holders needs or if they needed help."
Becky loves boating and has spent her free time on the river for almost 30 years.
One thing others might not know about Becky is her love for dogs. She has Kinzi, a 3-year-old beagle rescue and Lola, a 7-month-old black lab mix rescue. But Becky loves all of the dogs in her life, including those in her neighborhood!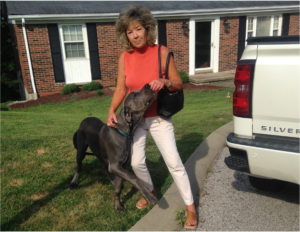 "That is my buddy in the neighborhood, Leo a blue Dane, he's a big sweetheart."
Becky is a fun and supportive staff member at Element, and our members love to chat with her on the phone!