Win Rewards For Shopping Local!
It really is that simple! Peeps Perks is a social media powered shop local rewards program powered by Element Federal Credit Union. Peeps Perks gives you a super quick and easy way to earn rewards for shopping local when you share your experiences on social media.
Another way Element is for y'all, not profit.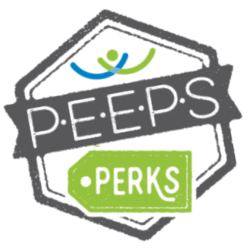 Shop
Shop at any participating Peeps Perks business! Use our interactive map, or click below for a full list.

Share
Share your experience on Facebook or Instagram, tag the business and send to @PeepsPerks

Get Rewarded!
Each quarter, 25 random entries will win $25.00 from Element FCU!* Make sure you're following the Peeps Perks Facebook page.
RULES: Giveaway period 7/1/2021 – 9/30/2021. NO PURCHASE NECESSARY. You may send a paper entry to "Peeps Perks Giveaway" during the campaign period to Element FCU, ATTN: Peeps Perks Giveaway, 3418 MacCorkle Ave., Charleston, WV 25304. Chances of winning are dependent on the number of eligible entries received. Only 25 winner(s) per giveaway period. One automatic drawing entry will be issued when: 1. you shop at any participating Preferred Element Employer Partner (PEEPs) Business, 2. share post, text and/or photo, to Facebook and/or Instagram and include Peeps' business social media handle and send post in Facebook and/or Instagram messenger to @PeepsPerks. Post entries from private Facebook/Instagram accounts may not be eligible for entry due to privacy filters, to ensure successful entry share screenshot of post with @PeepsPerks via Facebook/Instagram messenger. We respect your privacy. Maximum of 5 entries per person per giveaway period. Winner will be selected at random from a list of eligible entries after September 30, 2021. 25 Winner(s) will be selected by random drawing of eligible entries and will be notified on October 15 , 2021 via the contact information provided at entry. Winner will also be announced on October 15, 2021 via in the branch, website, and Facebook and Instagram. Winner has until October 29, 2021 to claim prize. If prize is not claimed by this date, an alternate winner will be selected at random from the remaining eligible entries. Winner(s) will receive one (1) Visa Gift Card or Cash Reward valued at $25.00. See credit union for complete details. Must be 18 years or older. Federally Insured by NCUA. Giveaway is subject to change or cancelation at any time without notice.