Can you feel the chill in the air? Fall is still with us, but December means the start of winter. To us, it also means eating good food, spending time with the ones you love, and giving back in all the ways we can. It makes sense to us that our #SwipeItForGood partner this month is Manna Meal! We're offering numerous ways you can support them this month.
---
You CAN Support Manna Meal
Dec 1st – 18th
We'll be collecting cans and non-perishable food goods at Café Appalachia in South Charleston from December 1st through December 18th. Stop in, grab some lunch, and drop off a can of peanut butter or maybe some soup to help feed locals in need. For every food item collected at Café Appalachia, in our tote, we will make a matching donation of 25 cents.
---
Element Zoom-a-thon for Manna Meal
Dec 19th 6:30 PM – 8:30 PM
Element is hosting a digital telethon December 19th from 6:30 PM to 8:30 PM to bring awareness to Manna Meal and push donations. Our goal for the evening is to raise $1,000 in donations. This event will feature local a variety of local artists:
Musical performance by Aaron Millner;
Dance performance my Martec Washington;
Steel drum performance by The Pan Demics;
Closing performance by local musical artist Shelem.
Learn more about this live event here.
---
Manna Meal #SwipeItForGood 
Don't forget!
You can support Manna Meal all year, 365, when you open an account with Element and select them as your #SwipeItForGood charity. Learn more about this program here.
---
Cheer Checking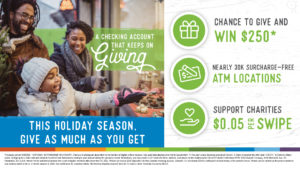 Want to end 2020 with a little cheer? When you open a Checking account with Element FCU, and use our promo code, Cheer Checking, you'll be entered to win $250, and Element will donate $250 to the #SwipeItForGood charity of the winner's choice. So, you and Manna Meal could celebrate together! This promo will end December 31st.